Can business directories help with my SEO in Lawton.
Short answer:  Definitely!
It wasn't that long ago they having an SEO firm said that they were going to make sure your website was included in a hundred online directories was a signal to run away as fast as you could. That indicated a company that either didn't know anything about what they were doing or were using extremely outdated tactics. Some directories are just plain considered spammy.  Spammy directories and spammy links, in general,  will actually hurt you in your rankings.
We seem to have now come full circle with the directories, at least at far as local SEO is concerned.  So, what can help my local SEO efforts in Lawton.
Local SEO needs 'citations'
Local Search Engine Optimizing (Local SEO) means getting your local business found online, in the Search Engines.  It means being found when a local customer is searching for what you do. This is especially critical when you have multiple business locations. It's a different game than SEO in general. Business directories that include NAP (Name Address and Phone Number) are vital. The search engines call them 'citations'.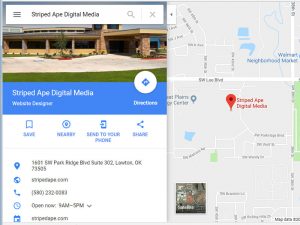 I talk to a lot of people who want to know how to improve their local search engine optimization. One often overlooked resource for local SEO are these business listings, creating that important 'citations'. Optimizing these citations can have a measurable impact on your website's visibility on the Search Results Page.
Perhaps the Big Kahuna, at least in the eyes of Google, is your Google My Business page. If you haven't done so yet, at the very least, you need to find it, claim it, and make sure all the information there is correct.  More on that in another post.
Other websites like Yahoo, MapQuest and others usually have built-in options for claiming, updating, and publishing your business listings. These major websites are only a small fraction of the websites that provide digital business listings. Yelp, Yellow Pages, Super Pages, and many other websites also reliably deliver business listings and reviews for customers.
Remember the all important thing. Anybody can be found by who they are. A future customer needs to find you by what you can do.
Make Your Listings Count
A thorough, complete business listing can have a significant impact on your local search engine rankings. You must be well represented in local directories.  The ones recognized by your community, like Angieslist.com, etc. It significantly increases the chances of new customers finding your website.
Local search engine visibility is more important than ever as search engines become better at showing personalized results to their users. Today, search engines have become borderline creepy in their ability to automatically determine your location when searching, and base their results on that information. (Ever notice those "location settings" on your smartphone?) When you spend time building a thorough business listing, you can give your business the competitive advantage it needs to rise about the crowd.
Remember the all important thing. Anybody can be found by who they are. A future customer needs to find you by what you can do.